The service to send PDF invoices to companies and individuals through InExchange Invoice Printer is already included in your contract. If you are not sure of what prices you have please contact us by e-mail or phone. If you are unsure of how to go about it, you can easily follow the guide below.
1. Search for the invoice that will be sent in your ERP and print it to InExchange Invoice Printer. A notice appears in the lower right corner saying prints are being processed.

2. As soon as the job has been processed locally, the option to transfer your invoices to InExchange is shown. So far, the invoices are only on your local computer.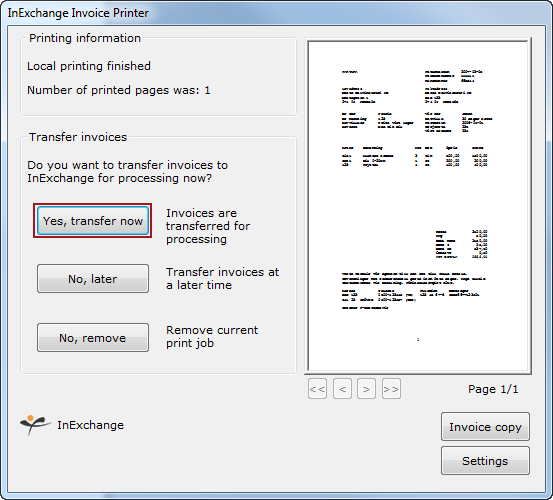 -Yes, transfer now
The invoice printout will leave your local computer and get transferred to InExchange. This means that the invoice will be moved to InExchange and not to the final client. Even if you cancel after you have transferred the invoice, the invoice still remains at InExchange until you choose to send or alternatively delete it.
- No, later
The invoice printout will be put in queue on your local computer and will not be sent to InExchange. For every printout that you choose this alternative, it will be put in queue until the next time you print. So if you select No, later it will appear the next time you print something and choose Yes, transfer now.
- No, delete
The invoice printout will be deleted and never sent to InExchange. Use this alternative if you immediately see that the printout is faulty or if you by mistake, have printed something else than an invoice to us.
3. In this case, we would like that the invoice printout will be sent immediately to InExchange. Therefore, select Yes, transfer now.
4. The box will close and you will shortly see a login box. Fill in your user information that you have got from your welcome mail, and click on Log in. (If you have forgotten your login information you can click on "Unable to log in?")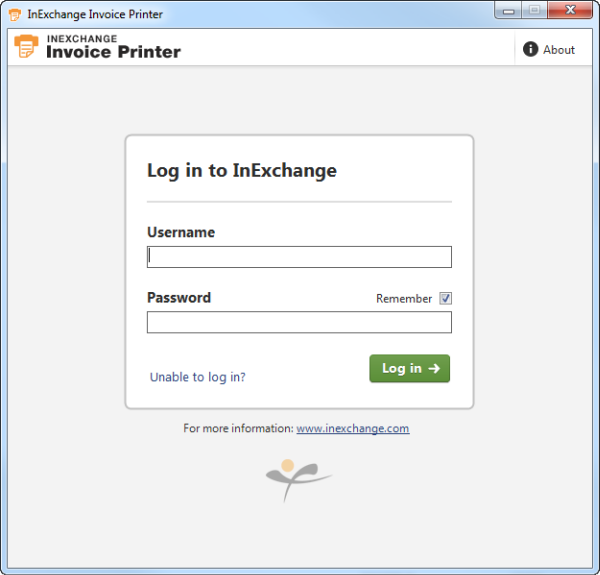 5. When you have logged in, a list over the printouts that are ready to be processed by InExchange is shown. Click on the button Transfer.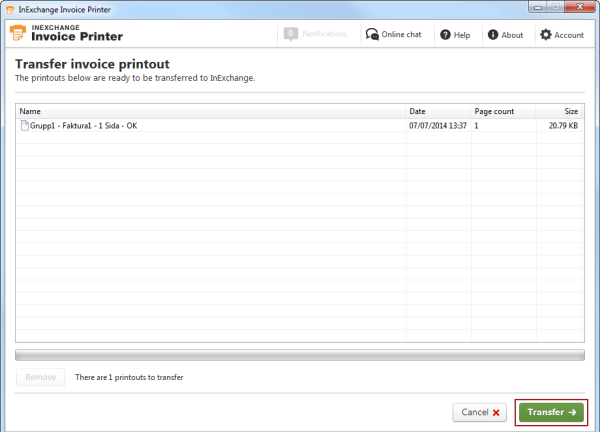 6. If every invoice went through our controls, the picture shown below will appear and you will then click on Next. If anything would go wrong we would automatically receive a message about it and check the error and notice you as soon as possible.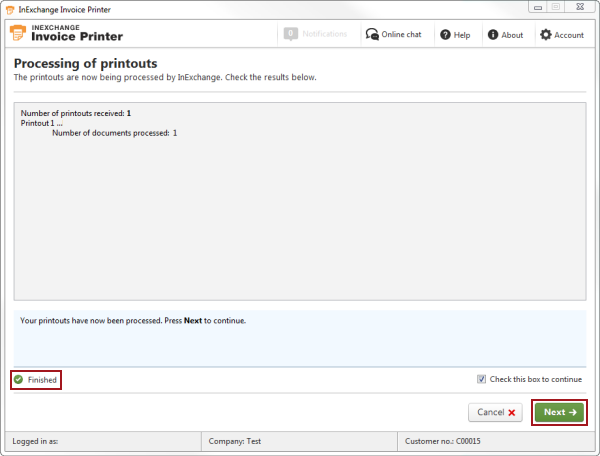 7. You will now be presented with the customer numbers that have been matched and it is now time for you to select where and how your invoices will be delivered. Regarding the PDF invoices, you will only need to do one thing here and that is clicking on the arrow under Send as on the correct company and select PDF. Thereafter, you must specify an e-mail address where the invoice shall be delivered under the panel Customer's e-mail. The e-mail address you have entered will be saved in your customer register. So if you invoice the same customer number in the future, it will be filled in automatically.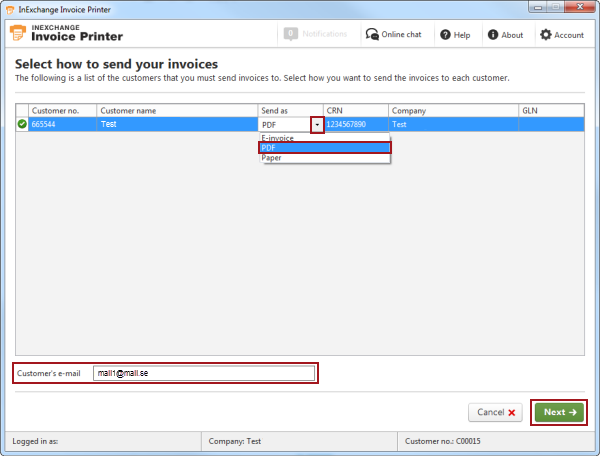 8. You will now be presented with a list of every invoice number that has been transferred and a small overview. Here you can see an example where we have transferred an invoice with the delivery way PDF. When you click on Send the invoices will be delivered to the entered e-mail addresses the same work day.