After you have transferred your invoices to InExchange Invoice Printer, you can choose delivery method per customer number in the step "Select how to send your invoices". The last chosen delivery method is saved in the settings for the customer in your customer registry. You can choose between e-invoice, PDF-invoice via e-mail and paper invoice.
Click on the arrow to the right of the field "Send as" on the line that you wish to edit delivery method on and select from the list that is shown, see picture below.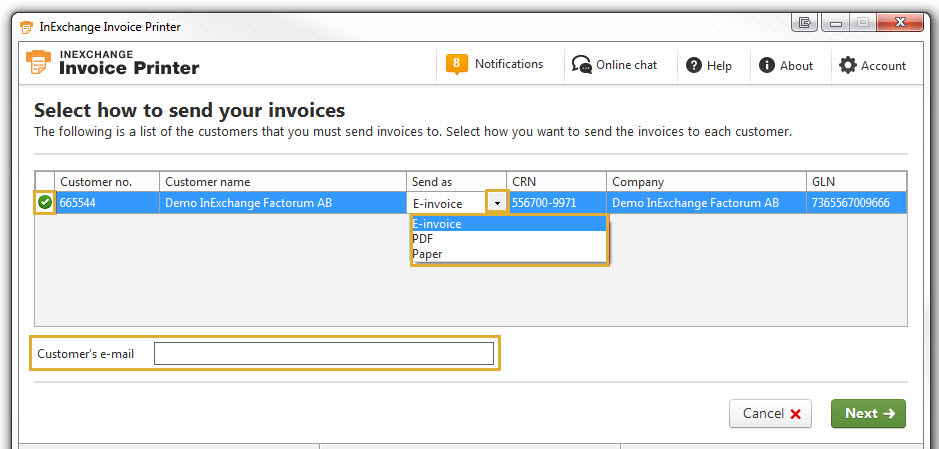 E-invoice
Select e-invoice as delivery method and check that the company information is correct. If the recipient accepts e-invoices, the line is marked with a green mark on the left.
Pdf-invoice via e-mail
When you select to send an invoice as PDF-invoice via e-mail you also need to fill in an e-mail address for the recipient in the intended field below the list with invoices. Make sure that correct line is marked and fill out a correct address. The address is saved in the settings for the current recipient in your customer register.
Paper invoice
The service to send paper invoices to companies and private customers via InExchange invoice printer is included in your agreement. If you are unsure on what prices you have, we ask you to contact us via e-mail or phone. When you select "Paper" as delivery method, the invoice printer will suggest an even better alternative when this is possible. To read more about it, point the arrow on the red triangle to the left.