Sending customer invoices

Receiving supplier invoices

User accounts and settings
When you send your entire invoice flow (e-invoices, PDF and paper invoices) via us, we can match your invoice recipients to e-invoice recipients in our network and help you choose the least expensive and most environmentally friendly way of sending your invoices. This isn't anything you need to keep track of yourself, you'll receive suggestions as part of the InExchange Postage Optimization service.
See which of your customers you can already start sending e-invoices to today! >>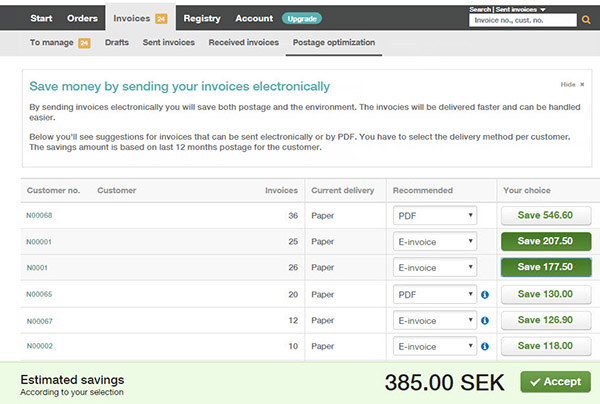 More and more of your customers accept e-invoices. Make use of our growing network and capitalize on the benefits of e-invoices. Sending invoices electronically reduces your postage costs and the invoice arrives and can be processed more quickly. We help you choose e-invoices.
FAQs about InExchange Postage Optimization:
1. How does postage optimization work?
When you send all of your invoices via us, we can make savings suggestions for you.
The suggestions are based on:
The least expensive way you can send your invoices to each invoice recipient and how many invoices you've sent to the recipient in the past 12 months.
2. How do I switch delivery method via postage optimization?
Savings suggestions are given for each recipient on the Invoices > Postage optimization page.
Click Save (+amount) or Switch to change the delivery method for each invoice recipient, and then click Accept at the bottom of the page.
If you see this icon on any row, you can move your mouse over the icon for further information on special e-invoice requirements the recipient may have. You should then contact the recipient to obtain the necessary details.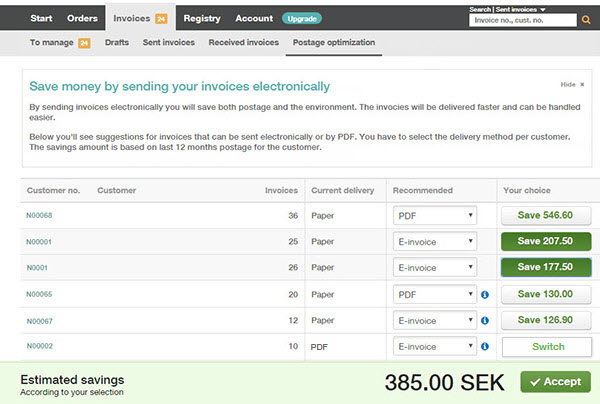 Further information:
- You can also access our automatic postage optimization via our integrated services.
- If you use our free InExchange Web Base service, you'll need to upgrade your service to be able to send paper invoices and to access InExchange Postage Optimization.
Want to find out more? Feel free to contact us >>