Sending customer invoices

Receiving supplier invoices

User accounts and settings
On the Received invoices page, you'll find invoices that have been sent to you in the past 18 months. Click on the invoice number in question to view the invoice on screen.

You can receive e-invoices directly in your ERP system or as a PDF invoice by email. Irrespective of the delivery method, the invoices are also listed on the Received invoices page.
FAQs about received invoices:

If you use an integrated service with us and have activated reference control on your supplier invoices, you can manage the reference names directly via your login.

Reports on received invoices:
1. Creating reports on your received invoices:
You can create reports on your received invoices.
What to do:
1. Go to the Received invoices page.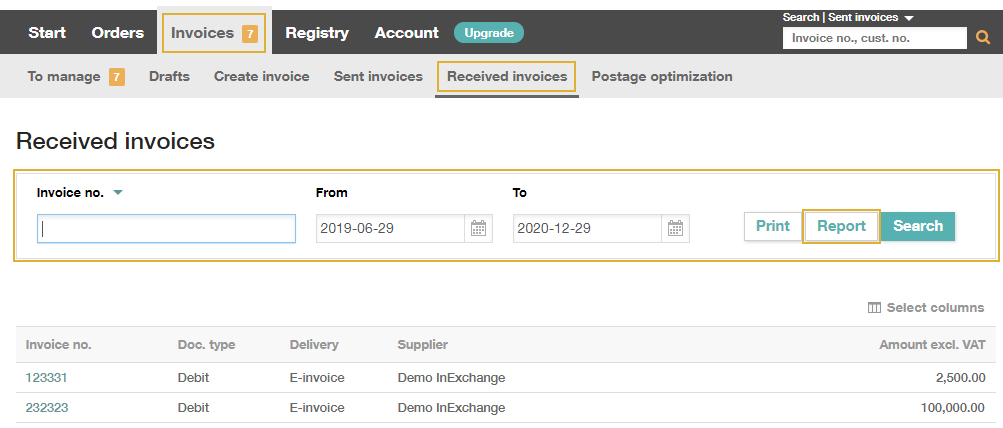 2. Here you can filter by invoice number and date, and by specific suppliers.
3. Press Report (once the filtering is complete) to create a report in Excel. The information is presented in different worksheets broken down by year and currency.
2. Report on rejected invoices from suppliers
In the Reports tab (under your account settings) you can order reports on rejected invoices from your suppliers. The report is sent to the email address you are logged in with.
Click on the arrow and select how frequently the reports are sent.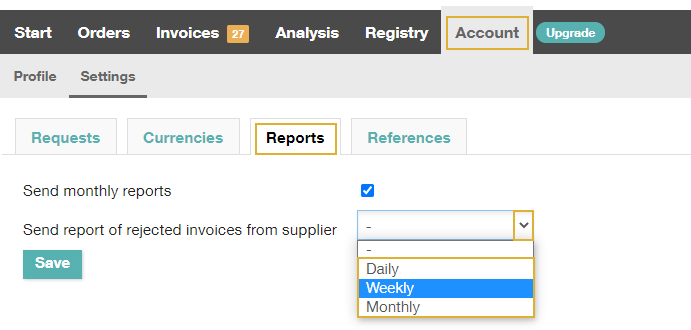 Do you have any questions about scanning invoices? Feel free to contact us >>